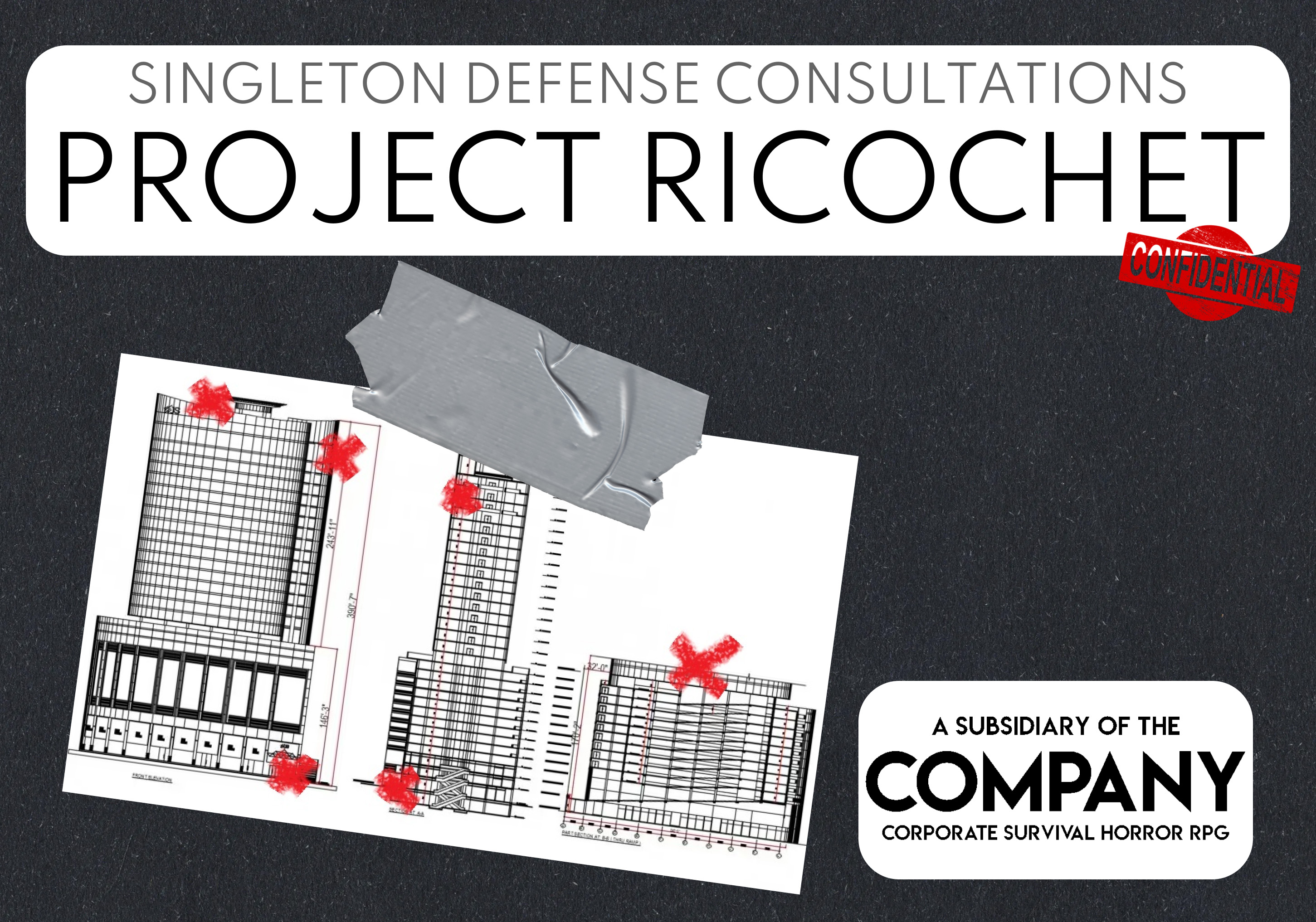 THE COMPANY: Project Ricochet
LET'S BE CLEAR: The Company sent you to die.

At best, they thought you'd only just do your job, taking the asset out and yourselves with it. At worst, you were nothing more than data they'd use to predict their losses, weighing it against future costs needed to recover their spoiled investment. With The Company, always assume the worst. It's always right, and when it isn't, it's a coincidence, not a kindness; just corp machinery aiming briefly in a less shitty direction.

WHAT THEY DIDN'T EXPECT: You managed it. You secured the asset, allied with it, or led it on a chase where you pick the final destination and you know where to take it: Company HQ. They wanted it and you're going to let them have it, delivered straight to the front lobby, the roof, or anywhere you can find a good entrance. You have more in common with the asset than them anyway. To them, you're just a list of qualifications in a dossier and a too-low payout hidden away on some spreadsheet. All a means to the same, predictable end.
Now we see what happens.

Project Ricochet is a reversal module for The Company: Corporate Horror Survivalin which you take on the role of a mistreated ARC team bringing a dangerous asset back to Company HQ finally bring the whole operation crashing down once and for all.
If most modules for The Company are about how powerful corporations are able to endlessly abuse their power, Project Ricochet is about finally doing something to make them pay.
Inside you'll find:
- 3 unique assets for your team to employ in their attack
- Guidelines for creating and running your own
- 3 new enemy types deployed by the corporate security forces
- 3 angles of attack each with changing corporate responses
- Simplified HQ map and location descriptions to focus your attack
Project Ricochet is less a massive dungeon crawl and more an action movie-style blowout. End a campaign with it, run it as a fun anti-corporate one shot, or start a new story of an ARC Team on the run!


Writing, Design and, Layout by Christian Sorrell (c)2021
christiansorrell.com | @elitemeatagent
Art by Thomas Novosel
thomas-novosel.com | @thomasanovosel
Project Richochet was created as part of The Company Mandatory Content Jam in October of 2021.



Project Ricochet is an independent production by Christian Sorrell and is not affiliated with THE COMPANY or MEGACORP Games. It is published under THE COMPANY Third Party License.
THE COMPANY is copyright MEGACORP Games and Wuhan Baxter LLC.
Download
Click download now to get access to the following files:
Project Ricochet - Final.pdf
31 MB
Simplified HQ Map.png
165 kB