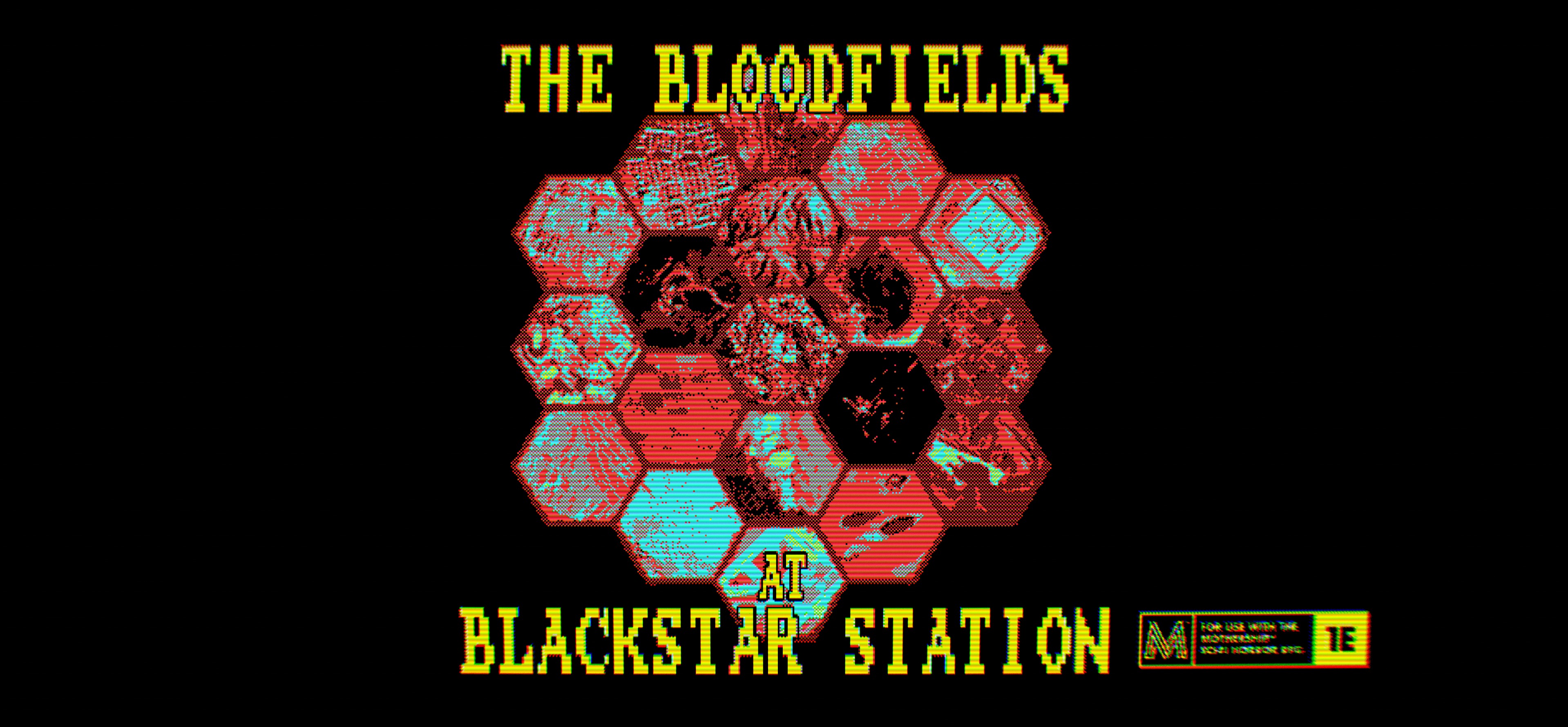 THE BLOODFIELDS AT BLACKSTAR STATION - a battle royale hexcrawl for Mothership 1e
Darkspace pirates, THE SWORDS OF SINCLAIR, troll the vast megavoids in the tracts between systems - scanning for hyperdrives with crew in cryo, using MILITARY-GRADE INTERDICTORS to pull ships from hyperspace and shutter their drives. Crews are stolen away, still in the cold dark of cryosleep or gassed into submission during boarding, and taken to BLACKSTAR STATION. Crews awaken as contestants in THE BLOODFIELDS.

THE BLOODFIELDS AT BLACKSTAR STATION is a 40-page battle royale hexcrawl and black market space station setting zine for the Mothership Sci-Fi Horror RPG 1e including:
19 sectors to fight across at the heart of a former tourist resort
20 teams of contestants - enemy killers, unlikely allies, and more
Black market space station setting with factions, NPCs and hooks
Evocative art by Roque Romero (Codex R, Picket Line Tango)
Edited by Vi Huntsman (MÖRK BORG, What We Give To Alien Gods)

CAMPAIGN: The Bloodfields is a terrible interruption between other things. The Swords find the crew on their way to the next job or on their way back. They don't know the crew is, and they don't care. They simply need bodies for the 'Fields.
LOCALE: Blackstar Station is a freespace hub for illegal trade, gambling, and more. Spread rumors of it. Let the crew find coordinates, hidden away. If you can find Blackstar, you are free to visit. But you may not like what you find.

PURCHASE INCLUDES:
40-page 8.5x5.5" Full Color Zine PDF


Including printer friendly, ePub, and Google Doc versions

Digital Asset Pack

High-res Bloodfields Arena and Blackstar Station Maps

Including poster hexmap art by Zach Hazard Vaupen!

High-res sector, contestant, locale and faction art/animated gifs

High-res winners' patch and double-sided digital poster art!

Digital Soundtrack by Jet McFin [AVAILABLE NOW]


20 atmospheric and pulse-pounding tracks to kill (or be killed) to!

!!! PHYSICAL COPIES COMING SOON !!!

The Bloodfields at Blackstar Station was created and crowdfunded via Kickstarter in February 2022 as part of Zine Month.



CREDITS
Writing/Layout: Christian Sorrell
Editing/Development: Vi Huntsman
Interior/Poster Station Art: Roque Romero
Poster Hexmap Art: Zach Hazard Vaupen
Patch Art: Stella Joy Condrey
Soundtrack: Jet McFin
Playtesting: Kevin Masterson, Tom Otero, Kurt Larson

Special Thanks:
Kate Sorrell
Ian Yusem
Tim Obermueller
Greenspore
Joel Hines
James Hanna
Backgrounds: TextureFabrik.com
Photo Processing: Photomosh
Fonts: Mx437 IBM Conv-2y (VileR), Oxanium (Google Fonts)

Purchase
In order to download this zine you must purchase it at or above the minimum price of $9.99 USD. You will get access to the following files:
Bloodfields at Blackstar Station - Pages.pdf
14 MB
Bloodfields at Blackstar Station - Spreads.pdf
14 MB
Bloodfields at Blackstar Station - PrinterFriendly.pdf
15 MB
BLOODFIELDS AT BLACKSTAR STATION - Digital Assets.zip
333 MB
The Bloodfields at Blackstar Station (OST)
168 MB
The Bloodfields at Blackstar Station - Final.epub
13 MB
The Bloodfields at Blackstar Station - GDoc Link.txt
123 bytes
Exclusive content
Support this zine at or above a special price point to receive something exclusive.
Community Copy
A free copy of the zine, digital assets, soundtrack, and more!

Provided by Station Explorer Pass backers of the original Kickstarter campaign! Thank you for your support!

Comments
Log in with itch.io to leave a comment.
Is there a recommended min/max party size? I'm guessing it's not particularly suited for solo play.
I'd recommend the standard 3-5 players in a crew. Solo play would be very hard to survive but I'd love to see how well a creative character could do! The game is procedurally generated as you play so there's no set difficulty or a point that would definitely be too hard or too easy. If I was a player in a smaller groups, I'd play quiet and smart and try to forge an alliance with another team (but who knows when they might turn on you?!).