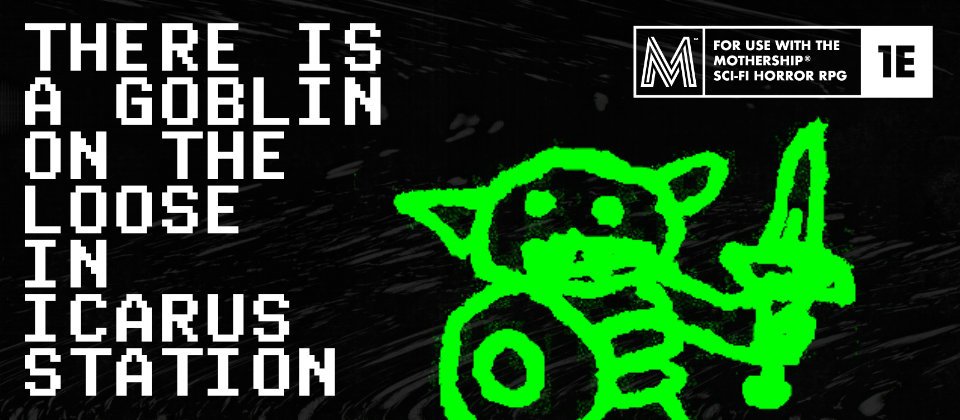 THERE IS A GOBLIN ON THE LOOSE IN ICARUS STATION - a goofy horror adventure for Mothership 1e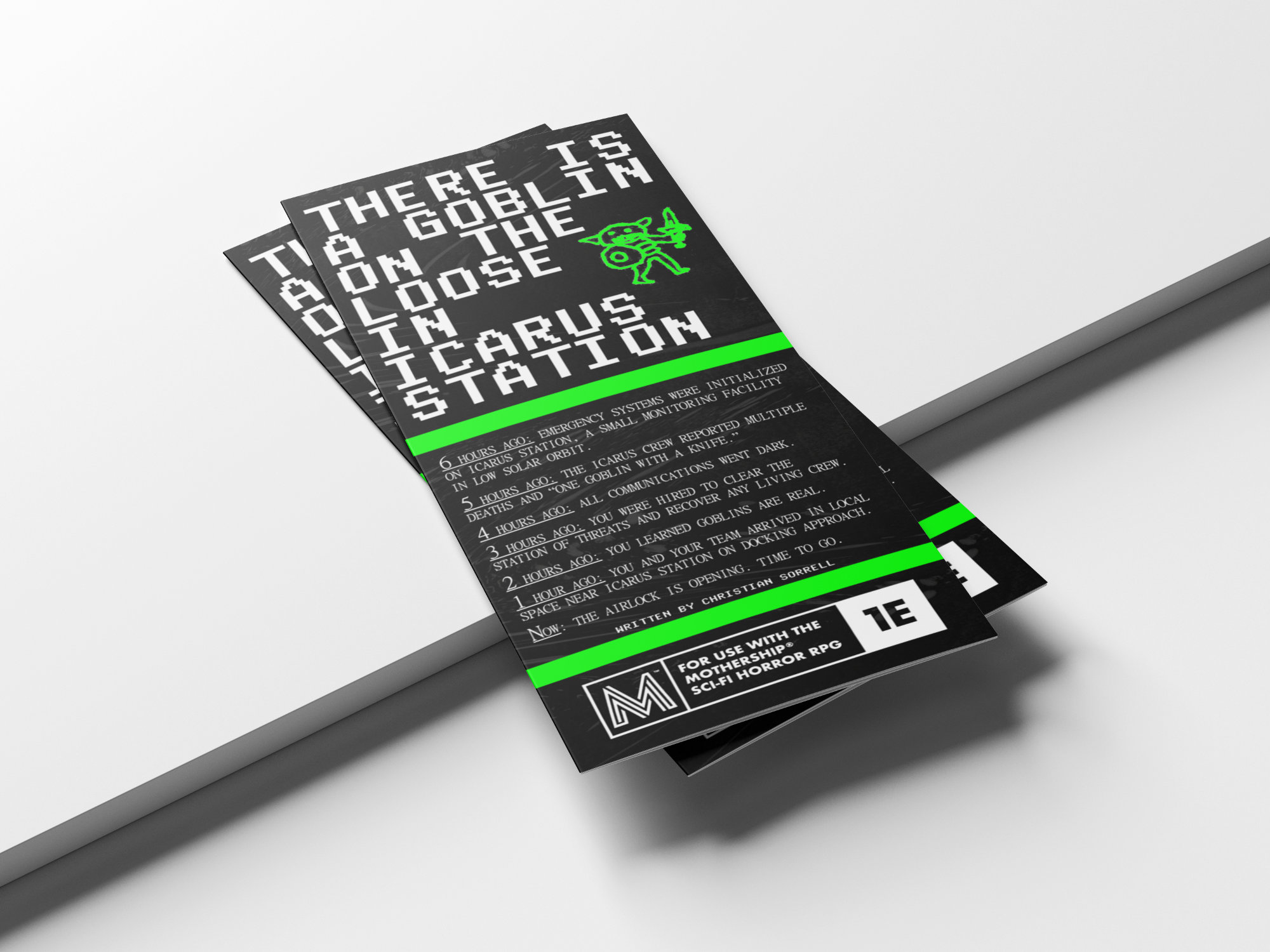 6 hours ago: Emergency systems were initialized on Icarus Station, a small monitoring facility in low solar orbit

5 hours ago: Icarus crew reported multiple deaths and "one GOBLIN with a knife."

4 hours ago: All communications went dark.

3 hours ago: You were hired to clear the station of threats and recover any living crew.

2 hours ago: You learned goblins are real.

1 hour ago: You and your team arrived in local space near Icarus Station on docking approach.

NOW: The airlock is opening. TIME TO GO.


THERE IS A GOBLIN ON THE LOOSE IN ICARUS STATION is a goofy and fantastical creature horror pamphlet adventure for MOTHERSHIP sci-fi horror RPG - 1e.
ICARUS STATION sees players boarding a solar monitoring station on a mission to rescue any living crew and deal with strange reports of a deadly entity onboard: a goblin with a knife!
Purchase includes standard and printer-friendly PDFs, a plaintext version, and standalone maps for players and warden use.


PHYSICAL COPIES AVAILABLE NOW AT:

PHYSICAL COPIES COMING SOON TO:


CREDITS

Goblin Art: Evlyn Moreau
Background: TextureFabrik.com
Inspiration: Sean McCoy
The Rest: Christian Sorrell
Purchase
In order to download this adventure you must purchase it at or above the minimum price of $2 USD. You will get access to the following files:
IcarusStation - v1.pdf
7 MB
IcarusStation - v1 - PrinterFriendly.pdf
710 kB
IcarusStation - v1 - Plaintext.txt
6 kB
IcarusStation - Map - Labeled - Black.png
1 MB
IcarusStation - Map - Labeled - White.png
1 MB
IcarusStation - Map - Unlabeled - Black.png
816 kB
IcarusStation - Map - Unlabeled - White.png
819 kB
Exclusive content
Support this adventure at or above a special price point to receive something exclusive.
Community Copy
Every purchase adds a community copy to the pool!