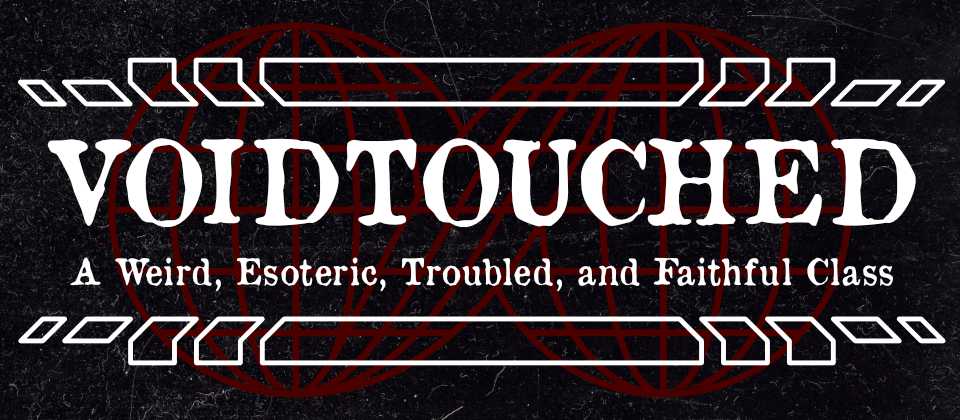 VOIDTOUCHED: A player class for Mothership 1e
Long ago, we left behind our natural home. Now, we traverse the heavens, traversing an endless and enigmatic void never meant for us. All we knew for all our existance - the sun, the horizon, even our natural gravity - is long behind us. It is time we become more like the void that is our home or be lost like a stranger in the dark.

To be Voidtouched is to understand that the grand mysteries of space require more than mundane, rational thinking. If the unexplained is commonplace, then perhaps you need new explanations.

The Voidtouched is a **1e-compatible** player class for the Mothership Sci-Fi Horror RPG loosely inspired by one of the 19 teams of enemy combatants in the upcoming battle royale hexcrawl The Bloodfields at Blackstar Station - OUT NOW!

Written by Christian Sorrell
Art by Evlyn Moreau
Graphics by Lone Archivist
This product is based on the Mothership Sci-Fi Horror Role Playing Game, published by Tuesday Knight Games. This product is published under license. Mothership RPG is a trademark of Tuesday Knight Games. All rights reserved. For additional information, visit www.tuesdayknightgames.com or contact contact@tuesdayknightgames.com.

Download
Click download now to get access to the following files:
VOIDTOUCHEDv1-printerfriendly.pdf
1 MB
VOIDTOUCHEDv1-printerfriendly.png
2 MB
Voidtouched-plaintext.rtf
1 kB